Greeting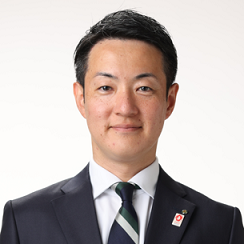 Hirofumi Yoshimura
Mayor of Osaka
Osaka is the largest city in western Japan, and it has a long history of 1,500 years.
In ancient times, Osaka used to be the capital of Japan and a gateway for international exchange, and since early-modern times, it has played a major role in the development of Japan's industry and economy while flourishing as a center of commerce and finance.
Today, Osaka City has the second largest gross city product in Japan and continues growing thanks to its various strengths in not only its market size and well-developed city infrastructure but also in its tourism, culture, sports, technology, and industry.
The Kansai metropolitan area, with Osaka as its core, has a population of approximately 21 million and a gross regional product (GRP) amounting to 794.8 billion dollars (in 2016). With the area's huge market in mind, many enterprises actively conduct their businesses in a wide range of industrial fields and many universities and research institutes engage in high-level research and academic programs.
Osaka City also has abundant tourism resources such as the city scenery symbolizing an Aqua Metropolis, arts and culture that preserves history and traditions in historic sites and cultural properties, a diverse food culture, and amusement parks including Universal Studios Japan. In addition, thanks to its excellent transport network including the 24-hour Kansai International Airport, Osaka welcomes over 11.1 million tourists from overseas in one year (2017).
Leveraging these resources, Osaka City is currently aiming to host the World Expo 2025, for which Yumeshima Island, an artificial island in the Osaka Bay area, is to be the venue, in order to revitalize the economy and the area by spreading the charm of Osaka/Kansai to the world, while contributing to resolving issues that humanity faces.
Under the theme "Designing Future Society for Our Lives," as many as 30 million people from all over the world will gather in Osaka over six months in 2025 and experience an exciting future.
Osaka wishes to leave a deep impression on people from around the world, touch their hearts, and let our children, who are bound for future achievements, envision a life filled with hopes and dreams… I definitely hope to realize such a future.
Osaka strives to build its presence in the world, for it is one of the two centers of Japan that drives the country's overall growth. Our city is proceeding with efforts made for Osaka's growth; for example, improving city infrastructure multiple purposes such as business and sightseeing as well as attracting people and enterprises.
I truly hope that everyone around the world will come to Osaka and experience all the special features it has to offer.
Hirofumi Yoshimura
Mayor of Osaka