Bay Area of Minato Ward
Recommended Course of Bay Area in Minato Ward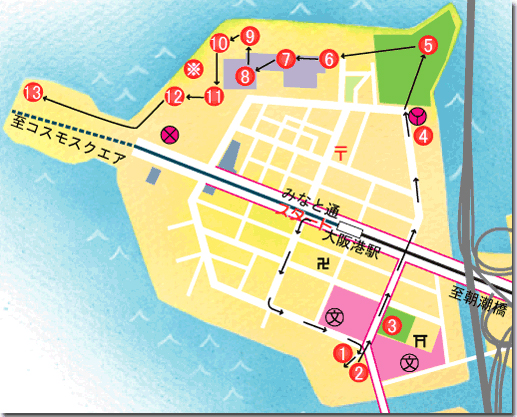 "Both ocean and mountain?" Let us introduce the Minato Ward bay area.
Starting Point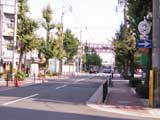 (Osaka's Subway System Chuo Line at "Osakako" Station, Exit #4)

1.Red Brick Warehouse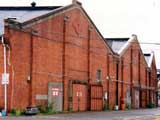 Red Brick Warehouse
(Approx. 500 meters from Osakako Station)
Get off at Osakako Station and walk south from the exit #4.
Walking about 500 meters, you'll see warehouses made of red brick.
Those brick warehouses were built in 1923 and a few brick buildings remain in Osaka.
They are no longer used as warehouses since 1999. Since then many international artistic activities have been held there instead.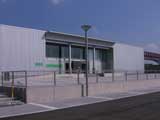 Kaigandori Gallery/Caso
Walking along looking at red brick warehouses, you encounter CASO; the gallery on Kaigandori.
Inside the gallery, which is an old steel-framed warehouse, it presents standing and projected exhibitions.

3.
Chikko Minami

Park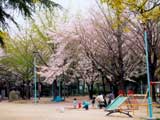 Chikko Minami Park
(Approx. 200 meters from CASO)
Walking a short distance more, you'll see a peaceful park with many plants.

4.
Suijo F

irehouse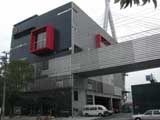 Suijo Firehouse
(Approx. 550 meters from Chikko Minami Park)
As you walk along, you can see modern architecture: Suijo Firehouse.
The firehouse protects the safety of the communities of Osaka Harbor and the Chikko area.
The building is designed in blue and red. The blue louver symbolizes the waves of Osaka Bay and the red window frame symbolizes a lighthouse. These designs represent protecting the citizens of Osaka.

5
.Tempozan

Park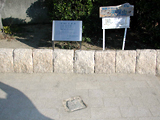 After walking a short distance you will arrive at Tempozan Park where Japan's lowest mountain, Tempozan (4.53m), is located.
Let's take a look inside. Ah! You've already climbed to the top of the park! It really is small and low, isn't it?

6.Ferris Wheel
(Approx.150 meters from Tempozan Park)
Now you have arrived at Tempozan Harbor Village. First, let's get on the large Ferris wheel and enjoy the great view of Osaka from the sky. The view from one of the largest Ferris wheel in the world is simply the best!!
The illumination on the wheel shows the time, the temperature and tomorrow's weather report. It also looks great at night.
(You can take a look at the Ferris wheel at night by clicking here.)

7.Market Place

Market Place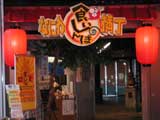 Naniwa Kuishinbo Yokocho
Feeling hungry? Let's get something to eat at Market Place right next to the Ferris wheel.
There are many shops in Market Place, from restaurants to amusement facilities. At "Naniwa Kuishinbo Yokocho," (meaning Osaka greedy hog alley) opened in 2002, you can experience energy of Osaka as it was in the 1960's. On the other side of the street, you'll find "Yamagoya" (Mountain hut), where you can receive a certificate showing that you climbed to the peak of Tempozan Mountain.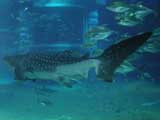 whale shark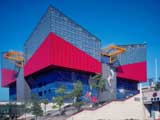 Kaiyukan
After eating, let's visit the main spot of the bay area, Kaiyukan. The aquarium features the world's largest fish, whale shark, and 580 other different varieties, totaling 39,000 marine animals. It takes about 60 to 90 minutes to walk through it.

9.Saint Maria Sightseeing Boat
After leaving Kaiyukan, a large ship sails into your sight. How about a sail around Osaka Harbor, with a gentle ocean breeze blowing across your face? You'll get a panoramic view of the bay area.

10.Sunset Square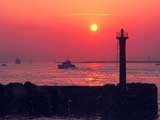 Coming back from sailing, you'll arrive at Sunset Square. You can see a great sunset here. It is a great spot for taking photos.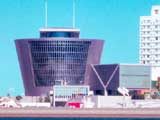 Suntory Museum
Let's experience art at the Suntory Museum next. The museum features one of the largest "IMAX Theater" screens and other various exhibits.

12.Mermaid Square

statue of a mermaid
After leaving the Suntory Museum, you can see a statue of a mermaid as if she were lingering out there waiting for someone. This statue was presented to the city of Osaka by Karlsburg Company of Denmark as a part of the cultural exchange between Osaka and Copenhagen Harbor in Denmark.

13.Chuo Tottei Rinko Ryokuchi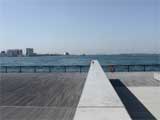 Chuo Tottei Rinko Ryokuchi
(Approx. 500meters from Mermaid Square)
Last but not least, how about a great view from the West end of Minato Ward? You can look out 180 degree over the Osaka Harbor and the sunset view here is just wonderful!!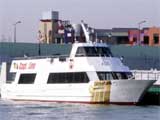 Going from Tempozan to USJ, the Captain Line is very convenient for you. It only takes 10 minutes one way.
Please visit Osaka Harbor for real the next time!!