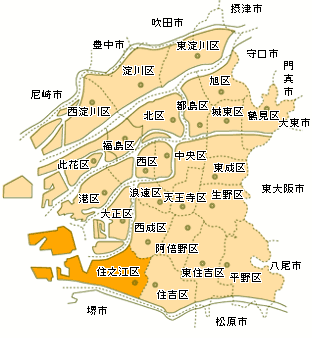 Suminoe-ku is situated in the southwestern part of Osaka City. The eastern part of the ward is a housing and commercial area; the central section is a thriving industrial area, catering to lumber yards and other industries. The western portion is taken up mostly by housing, economic and cultural installations, as well as the area's famed coast.

The appearance and atmosphere of eastern Suminoe-ku was formed by its proximity to the ancient Sumiyoshi (Kishu) Kaido highway. The establishment of the Nankai and Hankai railway lines saw the region truly thrive as a southern residential hub, with bustling markets to serve the local populace. With many famous places of historical and other interest, the area has long been known and loved as an area with a unique, traditional atmosphere.

July 2001 saw the opening of Kagaya Ryokuchi Park, featuring the remains of the old Kagaya Shinden Kaisho markets; the ruins were designated as important cultural assets in December of that year. While the central parts of Suminoe-ku had traditionally developed as a heavy industry hub, with particular strengths lying in boat building, iron, steel, and other metal works, today it is known for other industries, including a number of timber yards. Recent reductions in raw wood imports have seen a drop in the use of local timber yards, and it is foreseen that this area will have a new urban foundation in times to come.

The Shin-Kitajima area in the southern part of the ward is fast transforming into a hub for urban development, with the completion of the Oscar Dream terminal complex, which joins with Suminoe Koen Station on the subway and Newtram, and the construction of public and private apartment complexes.

Nanko Port (Sakijima) in the west of Suminoe-ku has achieved a delicate balance between the natural environment, culture, people's lifestyles, and economics. As one of Japan's largest international and domestic trading ports, Nanko is undergoing refurbishment in order to expand its capacity as a logistics centre.

Furthermore, Nanko Port Town aims to be a comfortable, convenient town, while retaining its inherent greenery. Nanko Port Town is home to approximately 30,000 people in 10,000 households, and residents may enjoy fishing parks, swimming beaches and ornithological parks nearby. Additionally, new settlement Cosmo Square, which nestles on the northern side of Port Town is fast becoming one of the largest economic, information and culture centers in the region, and already boasts a fantastic international trade capacity.

The area features a huge number of trade facilities, including the international trade fair site Intex Osaka, the Asia-Pacific Trade Centre, the World Trade Centre, and the Osaka Maritime Museum. Osaka City has become much closer as well, with such installations as the Osakako-Sakijima Tunnel and the creation of a rail link in the form of the Technoport Line.