Interesting Spots in Minato Ward
A:Northwest Area of Minato Ward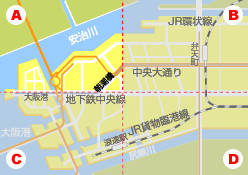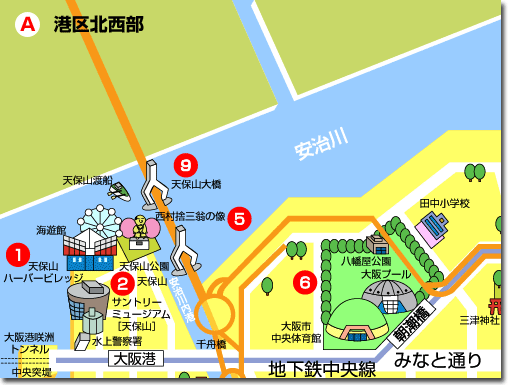 1.Tempozan Harbor Village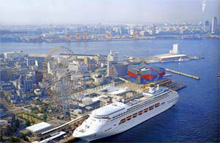 Beginning with Kaiyukan, one of the largest aquariums in the world, Tempozan Market Place, Hotel Seagull Tempozan Osaka, Ferris wheel, Suntory Museum "Tempozan," Tempozan Harbor Village is the representative sight-seeing spot in Osaka.
2.Tempozan
Tempo-zan is a mountain or hill (-zan ="mountain") 20 meters high formed from sand and sediment dredged from the Ajigawa River in the 2nd year of Tempo (1831) and landscaped by planting cherry and pine trees to become at the time the lively "New Show Place of Naniwa." Later, during harbor construction work the hill lost its original shape until the present time it rises to an elevation of 4.53 meters above sea level and is known as the lowest mountain in Japan.
5.Statue of The Venerable NISHIMURA Sutezo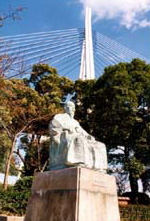 This statue was erected in honor of NISHIMURA Sutezo, the first Chief of Operations of the Osaka Harbor Construction Office, for his contribution to the development of Osaka Harbor. The statue stands in Tempozan Park as if it is watching over the harbor.
6.Yahataya Park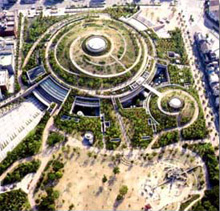 This park was built in 1923 as a city athletic field and has been used as an international trade fair venue and traffic park (for providing traffic information). At present, it is a comprehensive park with Osaka City's central gymnasium (Green Hill Osaka) and the Osaka Pool.
9.Tempozan Ohashi
Tempozan Ohashi (Tempozan Great Bridge) spanning the mouth of the Ajigawa River is one of the limited number of girder bridges in Japan, 152 meters in length and high enough to allow large ships with masts as high as 45 meters to pass beneath the girders. For upkeep inspection and maintenance management it has an elevator to the main tower. Such a bridge is rare not only in Japan but also in the world.