Interesting Spots in Minato Ward
B:Northeast Area of Minato Ward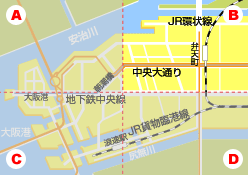 3.Flood Gates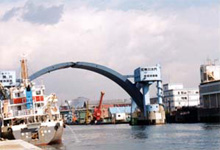 There was great damage from high flood tides during Typhoon Jane and the Muroto No.2 Typhoon. Because of this, the Ajigawa River flood gate and the Shirinashigawa River flood gate were build in 1970, modeled on the flood gates on Holland's River Lek, to prevent flood tides from breaking through during typhoons.
4.Historic Office Site of Ichioka Shinden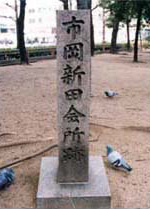 During the Genroku Period (around 1700), Minato Ward was frontier land where new rice paddies were being prepared everywhere. Among these the Ichioka Shinden (Ichioka's new rice paddy) was the largest on the land bordering on Osaka Bay. The "Ichioka Shinden Kaisho Ato" monument in Namiyoke Park was erected by the owner of the land in memory of the office of this rice paddy.
8.ORC 200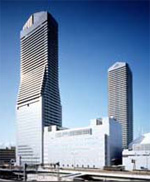 This is a complex of a variety of facilities including hotels located in high-rise buildings reaching heights of 200 meters, high-rise condominiums up to 167 meters, shopping malls, a gourmet district, cultural and educational facilities, medical establishments, swimming pools and bowling alleys.