Profile of Osaka city
City Profile
Area and population (as of May 1, 2017 )
Area: 225.21 km²
Population: 2,709,167
City Emblem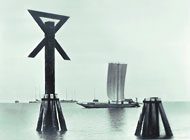 The Miotsukushi of ancient lore is a sign that was placed in the shallow waters of Naniwa-e Bay. Settsumeishozue (a tourist guide published in 1796-1798) shows only X-shaped panels nailed to a pile, but signs shaped like the modern city emblem are found in drawings from the Tempo Era (1830-1844). Osaka's prosperity has long been due to transportation by water and to ships coming in and out. Therefore, the Miotsukushi, with which people were familiar through close identification with the port, was chosen as the city emblem in 1894.
City Flowers
The Osaka City flowers are the cherry blossom and the pansy. They were selected by the citizens in 1987.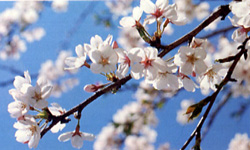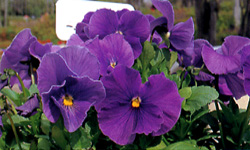 City Status
Osaka was given city status on April 1st 1889. However, at that time, the governor of Osaka Prefecture also served as the Mayor of Osaka City: this exceptional system was also in place in Tokyo and Kyoto.
Mayor
The first mayor of Osaka was Tahee Tamura who took office on October 12th 1898. Before the war, elections were carried out in the city council. As of April 1947, public elections have been the method used to select the mayor. The term of office is four years.

Greeting
City Council
The city council is composed of 86 members. They are elected by ward and serve a four-year term of office. In addition to the regular triannual assembly, extraordinary sessions are also held whenever necessary. There are six standing committees: Finance and General Affairs; Education and Youth; Public Welfare and Health; City Planning and Economic; Construction and Fire Defense; Transportation and Waterworks.