Information
Outline of the Port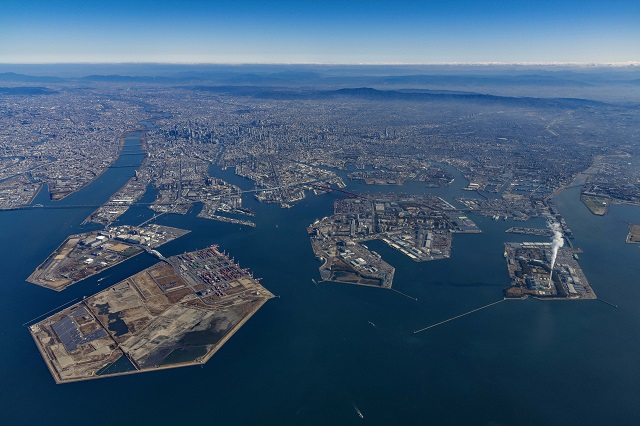 (as of November 2018)
Advantage of the Port of Osaka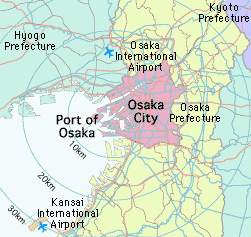 Having a major production and consumer base of 21 million, the Kinki Region centering on the City of Osaka, forms the backbone of the nation's economy. Situated at the heart of the region, the Port of Osaka is linked to various parts of the region through a comprehensive highway and other transport network.
Osaka's Position in the National Economy
Items
Osaka City (A)
Kinki Region (B)
Japan (C)
A/C(%)
B/C(%)
Population*1
2,724,007
20,598,764
126,493,181
2.15
16.28
Area
(km2) *2
225.21
27,351.24
377,973.89
0.06
7.24
Gross Product
(Hundred million yen)*3
190,760
807,414
5,142,963
3.71
15.70
Companies*4
208,835
974,495
5,926,804
3.52
16.44
Manufacturers'
Output
(Hundred million yen)*5
36,348
479,385
3,051,400
1.19
15.71
Foreign Trade
Value
Hundred million yen*6
Export
36,742
166,092
782,865
4.69
21.22
Import
47,553
146,597
753,792
6.31
19.45
Sources:
*1 Estimated population as of Aug 1,2018; the national population was estimated as of March 1, 2017.
*2 Nationwide area survey by prefecture and municipality 2017 (As of October 1)
*3 FY2014's GDP, Annual Report on Prefectural Accounts, and Annual Report on Municipal Account The figures are nominal.
*4 Economic Census 2014
*5 Census of Manufacturers 2014 (business establishments with four or more employees)
*6 Trades Statistics of Japan for 2017 (The figures for Osaka City show the amount of trade handled at Osaka Port.)
A Brief Outline of the Port
Known in ancient times as "Suminoenotsu," "Naniwatsu," the Port of Osaka served as an embarkation point for ships travelling to and from the Korean Peninsula and China. Since its opening to foreign trade in 1868, Osaka based industry and trade began to thrive and the number of vessels utilizing the Port of Osaka increased dramatically thanks to the construction of a new port. The Port of Osaka, as one of the nation's leading ports, entered an age of prosperity, becoming one of Asia's major trade ports. The port continues to prosper as a thriving international trading port through its commitment to overhauling facilities, utilizing state-of-the-art technology and providing improved port services. Handling around 80 million tons of cargo annually and linked to about 600 ports in approximately 140 countries and regions, the port is supporting economic activities and everyday lives of 21 million people in Kinki region.
Volume of Cargo Handled in 2017
Foreign Trade
Domestic Trade
Total
34,841,677tons
(including 31,107,514tons of
container cargo)
49,760,841tons
(including 32,418,776tons of
ferry cargo)
84,602,518tons
Reclaimed Land Area
(as at October 2017, including reclamation planned and also in progress)
Maishima
Yumeshima
Sakishima
(Nanko District)
New Island District
220 hectares
391 hectares
1,045 hectares
204 hectares
Port District / Harbor Limits (as of October 2017)
| Port District | Harbor Limits |
| --- | --- |
| 1,979.1 hectares | 4,684 hectares |