Business
Hanshin Port: A Strategic International Container Port
Definition of Strategic International Container Port
Concerns about Becoming Feeder Ports
Because other Asian ports are making remarkable progress, the relative competitiveness of ports in Japan is being gradually compromised. If our key ports would be excluded from the major routes of marine container transport, the ports in Japan would function only as feeder ports for transshipment to foreign ports (such as Busan).
This would cause the logistics system of Japan to become dependent on other countries, resulting in unstabilized supply systems for Japanese companies, the decreased international competitiveness of Japanese industries, and the loss of employment to overseas, among other concerns.

Mission of Strategic International Container Port (Hanshin Port)
While economic globalization is making progress, it is indispensable to strengthen the international competitiveness of Japanese ports as a measure to prevent the degradation of the international competitiveness of Japanese industries and outflow of businesses.In view of the circumstance, Japanese government decided to make further improvements in the centralization of selected container ports and reinforce the international competitiveness of the container ports. Accordingly, the Ports of Osaka and Kobe as sections of Hanshin Port along with Keihin Port have been selected as Strategic International Container Ports since August 6, 2010.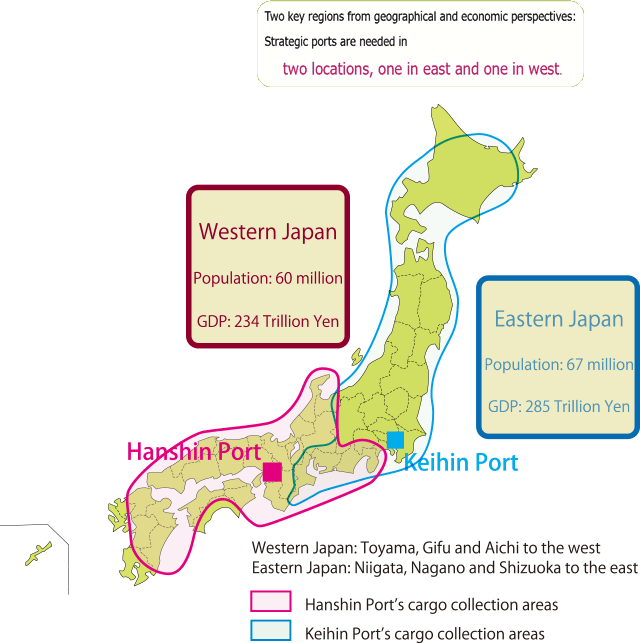 Vision of Hanshin Port
Upgrading its functions as a gateway port supporting industries and international logistics of Western Japan (Maintain and / or increase the port call of ships on major routes).
Rebuilding functions as a domestic hub port by providing port services competitive enough with major ports in East Asia.
Serving as an international hub port in East Asia by trading a large volume of cargo that helps attract ships on major routes.
Key strategies of Hanshin Port
As part of an effort to strengthen the capabilities of Hanshin Port, a variety of initiatives have been taken in close collaboration with the national government, aiming to provide more advanced logistics service to the users of Hanshin Port.
The specific initiatives include the collection of cargo from western Japan, the creation of new cargo by encouraging the establishment of new industrial sites, and the strengthening of competitiveness by improving the capabilities of port facilities.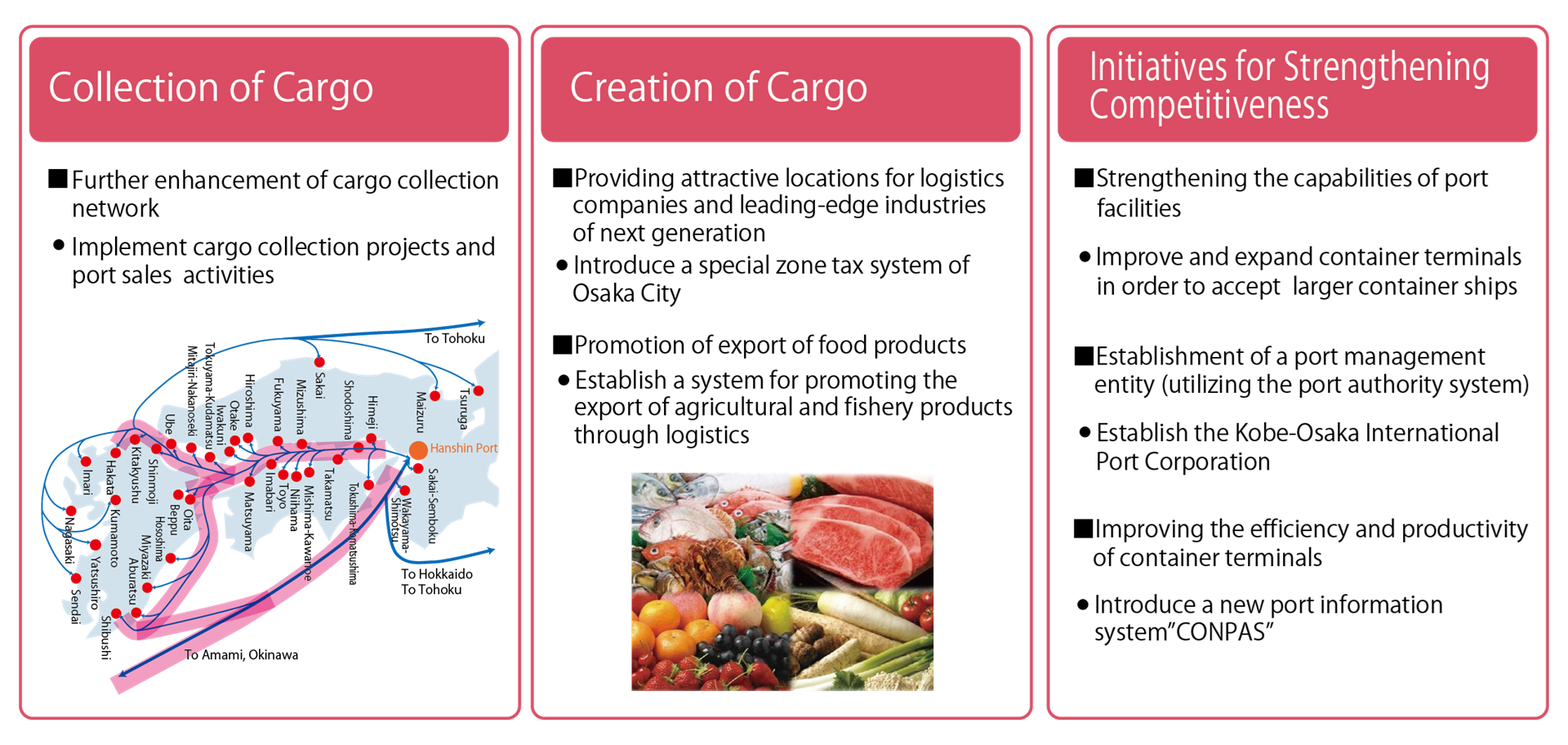 Specific Efforts at Hanshin Port
Initiatives for cargo collection
Focused and efficient cargo collection is promoted in order to maintain and increase calls at Hanshin Port via major routes.
Overview of cargo collection projects at Hanshin Port
Cargo collection projects at the Hanshin Port
The Hanshin Port will implement various support projects to promote cargo collection.
Principal operations
Promoting use of international feeder service
Supporting shippers and logistics businesses
Promoting Asian routes

For more information, please see the Kobe-Osaka International Port Corporation's website.(https://hanshinport.co.jp/)
Initiatives for cargo creation
We are promoting the use of the Port of Osaka and the creation of new mechanisms to facilitate the exports of agricultural, marine, and other products from the Port.
Port of Osaka "Food Export Seminar & Business Meetings"
Marine transport service featuring consolidated frozen cargoes from the Port of Osaka
Three business operators certified by the Kansai Foods Export Promotion Cooperative Association and Kobe-Osaka International Port Corporation provide logistics support to food export businesses to facilitate small-scale export.

Port of Osaka logistics business operator search website(Nickname:Hakobunen)
This website allows shippers who are considering exporting or importing through the Port of Osaka to easily search for logistics providers who can arrange transportation and send batch e-mail inquiries, thus supporting smooth transportation arrangements.

Competition-strengthening initiatives
The Port is working to strengthen its competitiveness as a Strategic International Container Port by pursuing initiatives to reduce port costs and boost convenience, for example by building a large, deep-water container terminal and utilizing a port management company system as defined by the Port and Harbor Act in order to accommodate changes such as growth in container ship size and cargo volume.
Increasing the width and depth of the main channel and the expansion of the Yumeshima Container Terminal
Description: Dredging to widen the channel to 560 m and deepen it to 16 m; creation of Shinto (New Island)(Area 2-1)
Extension of the C-12 wharf and expansion of the cargo handling area
Dates: FY2011 to FY2026(tentative)
*Includes dredging of the channel and berths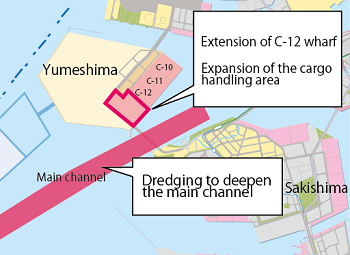 Introduction of CONPAS*, a New Port Information System
*Abbreviation of "Container Fast Pass"
| | |
| --- | --- |
| We introduced CONPAS, a new port information system developed by the Ministry of Land, Infrastructure, Transport and Tourism, in an effort to resolve congestion at gates, for example by using information and communications technology (ICT) to speed up gate processing operations and by using proximity information for container vehicles to enable advance cargo handling in yards. | |
Toward Construction of Inland Port
The Hanshin Port is reviewing an existing land transportation system for maritime container logistics and constructing an inland port as a collection base for container cargo in order to reduce logistics costs for shippers, improve efficiency, and reduce the environmental impact. As a first step, the "Hanshin Inland Container Depot Shiga Minakuchi (ICD)" has been established in Shiga Prefecture to support the round use of empty containers.