Business
Strategic International Container Port "Hanshin Port"
Definition of Strategic International Container Port
Concerns about Conversion into Feeder Ports
The ports in Japan will function only as feeder ports for the transshipment of cargo to foreign ports, such as Busan, if the international competitiveness and functions of the ports in Japan should become relatively inferior to those of other Asian ports that are making remarkable progress. As a result, the logistics system of Japan will become dependent on other countries, and a reduction of the international competitiveness of Japanese industries will be feared along with the unstable condition of Japanese companies' supply systems loss of employment due to the outflow of businesses to other countries.

Mission of Strategic International Container Port (Hanshin Port)
While economic globalization is making progress, it is indispensable to strengthen the international competitiveness of Japanese ports as a measure to prevent the degradation of the international competitiveness of Japanese industries and outflow of businesses.In view of the circumstance, Japanese government decided to make further improvements in the centralization of selected container ports and reinforce the international competitiveness of the container ports. Accordingly, the Ports of Osaka and Kobe as sections of Hanshin Port along with Keihin Port have been selected as Strategic International Container Ports since August 6, 2010.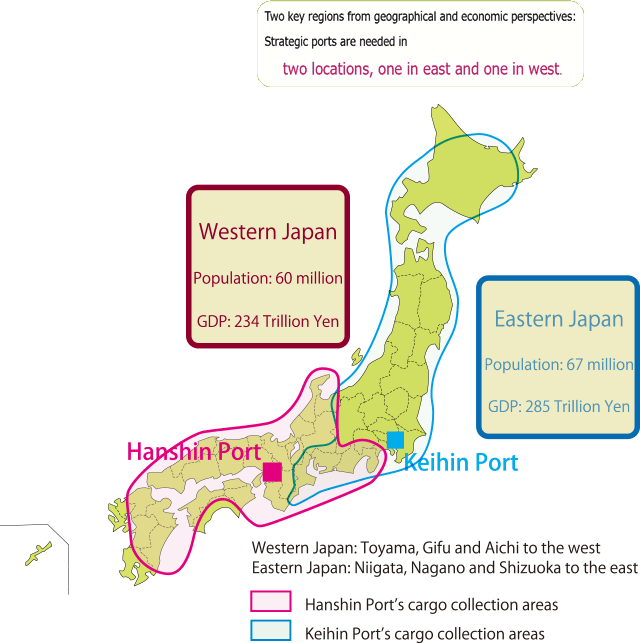 Vision of Hanshin Port
Upgrading its functions as a gateway port supporting industries and international logistics of Western Japan (Maintain and / or increase the port call of ships on major routes).
Rebuilding functions as a domestic hub port by providing port services competitive enough with major ports in East Asia.
Serving as an international hub port in East Asia by trading a large volume of cargo that helps attract ships on major routes.

Major strategies of Hanshin Port
More specifically, the Hanshin Port is working on the reinforcement of its cargo collection features in conjunction with Japanese government such as fulfilling coastal feeder network, creation of cargo shipments with the promotion of local industries, and improvement of the port facilities as well as the construction of facilities to improve the convenience and safety of container terminals to offer high-level logistics services to the Hanshin Port users.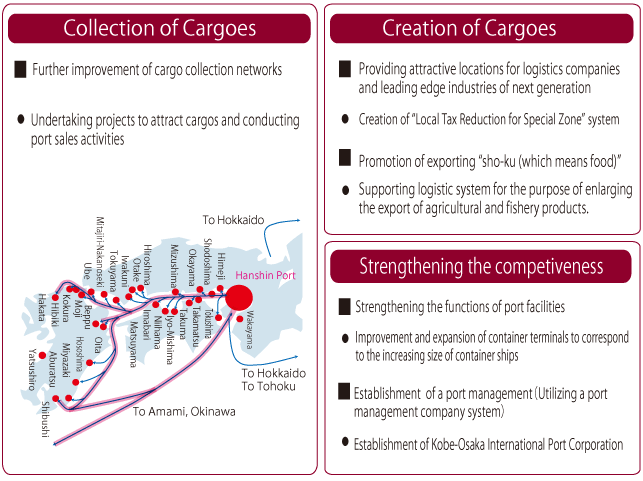 Specific Efforts of Hanshin Port
Initiatives for cargo collection
Focused and efficient collection of cargoes has been promoted to maintain and increase port calls to Hanshin Port via major routes.
Outline of the cargo collection project at Hanshin Port

It is important to maintain and reinforce the results achieved via the project of cargo collection to Strategic International Container Ports launched in FY 2014, as well as to enhance direct cruise services to north America and other regions.
For this purpose, it is required to attract cargoes to/from Southeast Asia, etc., which is increasing due to the region's remarkable economic growth. Thus, we will implement various support projects to attract domestic and Southeast Asian cargoes.
Support for introduction of larger vessels on major routes
Strengthening foreign sea route networks connecting to major routes
Attracting overseas feeder ships
Initiatives for cargo creation
As part of the initiatives for cargo creation, the Port of Osaka works to promote the use of the port by, for example, establishing a new framework to increase exports of agricultural and marine products from the port.
Port of Osaka "Food Export Seminar & Business Meetings"

The Port of Osaka "Food Export Seminar & Business Meetings" have been held since FY 2017 to promote export of agricultural and marine products and foodstuffs from the Port of Osaka, with cooperation from related organizations.
Marine transport service featuring consolidated frozen cargoes from the Port of Osaka

Three business operators certified by the Kansai Foods Export Promotion Cooperative Association and Kobe-Osaka International Port Corporation provide logistics support to food export businesses to facilitate small-scale export.

Port of Osaka logistics business operator search website(Nickname:Rakuraku Kaiun)

This website supports smooth transportation arrangement for shippers considering using the Port of Osaka for import or export business. Users can easily search available logistics business operators that can arrange transportation, and send mass emails for inquiries as necessary.

Toward Construction of Inland Port
The Hanshin Port is reviewing an existing land transportation system for maritime container logistics, and constructing an inland port as a collection base of container cargo and working on the reinforcement of its cargo collection functions in order to reduce the logistics costs of shippers and improve the efficiency of logistics. As a first step, the "Hanshin Inland Container Depot Shiga Minakuchi(ICD)" has been established in Shiga Prefecture to support the round use of empty containers.