Extensive Harbor Facilities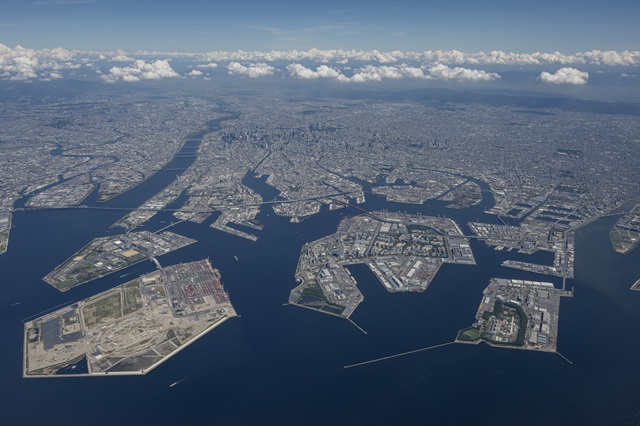 Hosting a wide range of logistics facilities including container wharves and ferry terminals, the Port of Osaka is a leading logistics center in Western Japan.
With regard to container freight, in addition to the six-berth container wharf in the Sakishima (Nanko) Area, which has served as the Osaka Port's main base for container logistics, the Yumeshima Area is positioned as a new base for container logistics, providing an ideal location for realizing high-standard container logistics services. At Yumeshima Container Terminal in particular, effective terminal operation is achieved through the three-berth integral deployment with the wharf length totaling 1,350 m.
At the same time, existing wharves on Sakishima will be converted to the ones accommodating multi-purpose foreign trade vessels, specialized vessels, domestic RORO vessels and ferries, thus improving the user-friendliness of the Port.
There is also a wharf dedicated to passenger liners, which can accommodate large vessels while offering excellent convenience to passengers and crew, providing great service and hospitality at the port of call, "Osaka", with safe operation and enhanced customer satisfaction in mind.
Land Use at the Port of Osaka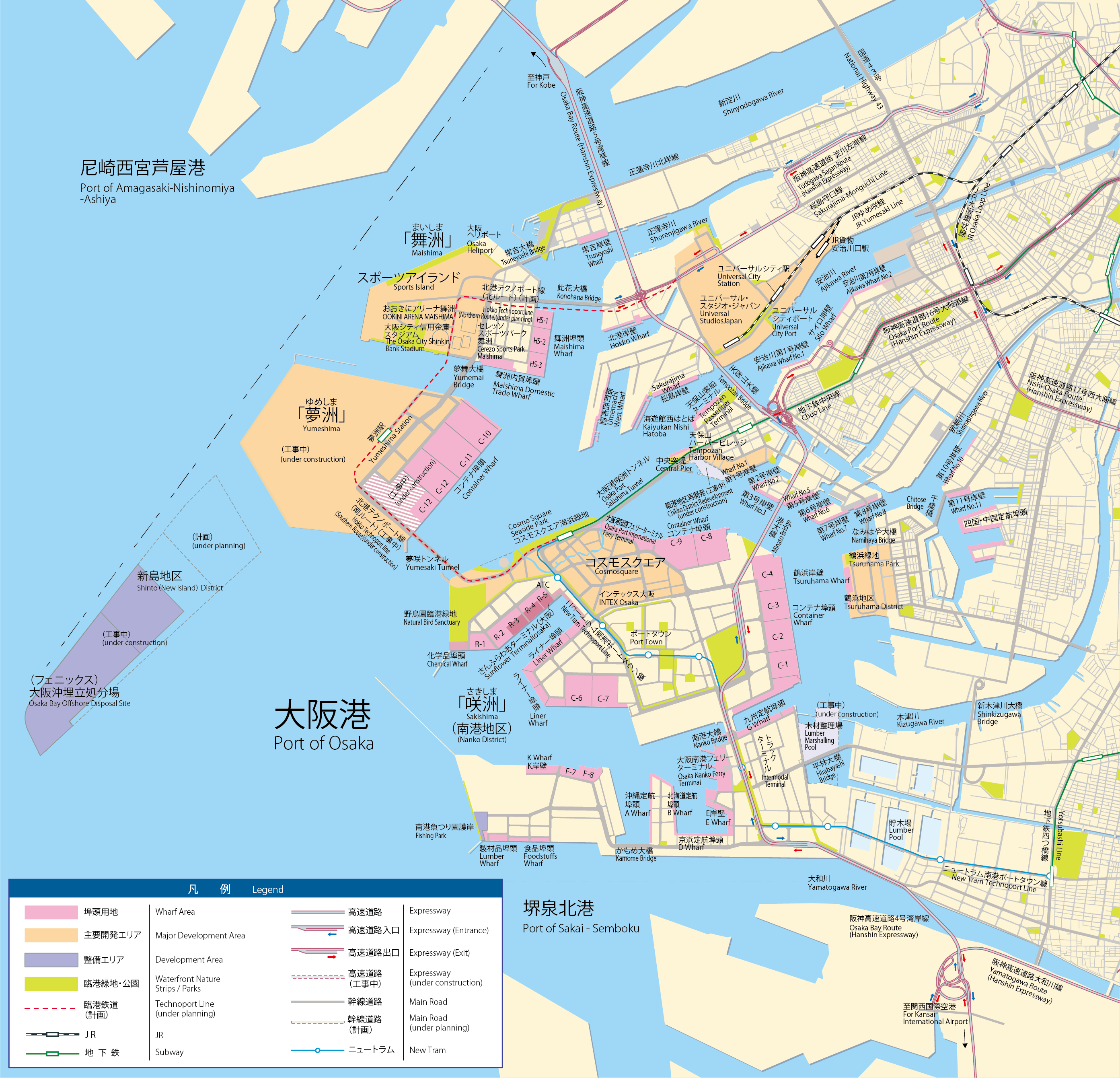 Production and Consumption Areas
Supporting a consumer base of 21 million, the Kinki Region centering on the City of Osaka, along with the metropolitan area surrounding Tokyo, forms the backbone of the nation's economy. The port is extremely well located in terms of import / export distribution capability, being situated only 10 kilometres from central Osaka and linked by an extensive expressway network. Thus, as an integral economic zone and distribution centre, the Port of Osaka makes a substantial contribution, addressing the societal and industrial needs of western Japan.
Transportation Network Development
Efficient cargo transportation from the Port of Osaka is made possible by a comprehensive network of high-quality expressways and major roads, which link the port with both the Central Business District (CBD) and surrounding cities. By capitalising on the close proximity of the Kansai International Airport, which is directly connected by expressway, the port also maintains facilities for air cargo distribution. Therefore with the most extensive ferry terminal in western Japan, the Port of Osaka, is an integral cargo distribution center, incorporating land, sea and air transportation.

The port of Osaka area's vehicular transport network is continuing to expand. In October 1997, the Osakako Sakishima Tunnel was completed, followed by the opening of the Yumemai Bridge. While the Yumemai Bridge has been providing vehicular access to the northern part of Yumeshima Island since October 2000, a new tunnel named `Yumeshima Tunnel', linking the south side of the island, has been started in 2008.