Earthquakes: Prior Preparation
TO MINIMIZE POSSIBLE DAMAGES
The "antiseismic diagnosis" checks a building for earthquake resistance. If a building is judged to fall short of earthquake resistance requirements, it is then recommended that the building provide the required reinforcement in consultation with an expert.
For condominiums, it is recommended that the condominium management association first discuss the implementation of antiseismic diagnosis. Large-sized reinforced condominiums need antiseismic diagnosis by an expert.
It is also important for owners of rental houses and/or apartments to implement antiseismic diagnosis in preparation for earthquakes.
Earthquake-Resistance Diagnosis of Your Dwelling's Structure
Please contact the Osaka Building Disaster Prevention Center (06-6942-0190) for antiseismic diagnosis consultation as well as the application for a support service system.
Please contact the Guidance Section of the Planning Bureau`s Construction Guidance Department for details and inquiries regarding assistance at 06-6208-7859
Safety Check Your House
Do the concrete block walls around your house have enough antiseismic resistance?
Do you have any outdoor air conditioning equipment installed that is unstable?
Is there any fear of falling signboards or automatic vending machines?
If block concrete walls topple, they may injure your neighbors or may become a hindrance. Try to carry out periodic checks and if an unstable area is found please repair it.
Consult an expert details.
In Order to Prevent Injury in Your Home
Is there any furniture that can easily fall down?
Is there any fear of heavy objects such as TV sets placed on furniture falling down?
Is there any fear of a cupboard's contents spilling forth and breaking the glass of the cupboard?
Are there any vases or water tanks that might fall?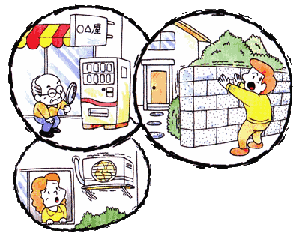 DISASTER PREVENTION WITHIN THE FAMILY - Family Discussion-
Where will you escape when an earthquake occurs? Confirm in advance the place to meet after escape and try to remember the escape route.
Decide on a place to meet family members in case family members are separated.
Determine a method of contact for family members. When escaping, attach a piece of paper to the door or a suitable corner of your house indicating the destination of escape. Determine a procedure to confirm the safety of your family.
It is recommended to choose a friend or relative living in another prefecture as a telephone contact. This may be convenient for you to announce that you and your family members are safe.
Please make sure that there are two exits in different directions for escape because of the fact that fire or smoke may make one route impassable.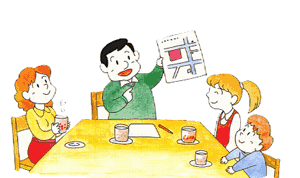 Have the following prepared in advance:
Place emergency goods in a knapsack for an escape and check the goods for their quality a few times a year.
Give forethought to escape by trying to carry the knapsack containing the emergency goods on your back. Ensure that you are able to move quickly and comfortably.
It is important to be able to locate the knapsack quickly at the time of escape. The bedroom or the entrance may be the best place because you may have the quickest access to these places.
Example of emergency goods
Crackers, biscuits and canned foods (2 or 3 meals worth)
Drinking water
A flashlight
Disposable hot packs
Knives, spoons, forks, chopsticks
Nursing bottles, baby goods (disposable diapers, etc.)
Clothing (towel, underwear, etc.)
Helmet or protective headgear
Cash (small coins)
Health insurance certificates, licenses (copies of both)
Passports
A portable radio and batteries
Lighter or matches
Candles
First-aid kit
Vinyl bags (large and small)
Sanitary napkins, wet tissues
Raincoats
Gloves, rope
Tissue paper
Bank accounts, personal seals, Bonds, stock certificates
WHAT TO PREPARE AT HOME
Prepare canned foods, prepackaged foods, alpha rice, etc., and replace them on a regular basis. Also prepare a portable gas heater and solid fuel.
One person requires 3 liters of water a day. Ensure the necessary amount of drinking water for a few days.
Keep water in the bath tub or the washing machine for fire fighting or
other purposes such as flush water in case of a suspension of the water supply.
Set aside a fire extinguisher, and participate in disaster prevention training so that you can handle fire extinguishers competently.
Prepare a first-aid kit in advance because in a disaster, it will probably take a fair amount of time at a medical facility to get treatment due to the large numbers of wounded people.
If pinned under furniture or other debris, carpentry tools such as: saws, cutting pliers, bars, hammers, scoops, and axes, can be used as rescue tools.
FOR THOSE WHO NEED ASSISTANCE
It is important for bedridden or handicapped people and their family members to ensure a safe space free of falling objects or furniture.
For those who are visually impaired, it is important to ensure that the layout inside and outside of the house is fixed, and if there is any change in the layout, inform the visually impaired person of the change immediately.
For those who are speech or hearing impaired, it is recommended that their family members prepare a flashlight plus writing tools and cards for communication for them to write out questions and requests.
For those who have some form of intellectual impairment, it is recommended that family members hold frequent discussions about earthquakes and repeatedly practice and drill how to react to an earthquake.
For those who are outpatients, it is recommended that family members confirm the medical institution, prepare the necessary medical articles, and ask the doctor in charge for advice beforehand.
BUILDING UP A SUPPORT SYSTEM IN THE COMMUNITY AND NEIGHBORHOOD
For Those Who Need Support- Appeal to Your Community
Bear in mind that one should keep up communication with the local community organizations- Red Cross Volunteer Groups, executive members of autonomous disaster prevention organizations, as well as neighbors and ask for their support.
To Neighbors - Support Those Who Need Help!
It is recommended for neighbors and autonomous disaster prevention organizations to cooperate with each other to provide information and preparation to those who need ssistance.
ENCOURAGEMENT OF COOPERATIVE DISASTER PREVENTION ACTIVITIES
We cannot prevent earthquakes from occurring, and each inhabitant has his or her own limit. It is important for local people to cooperate with each other in building up an autonomous disaster prevention organization and conduct disaster activities.
A "Community Disaster Prevention Leader" system has been created in each consolidated volunteer group for disaster prevention activities in Osaka City. This is mainly administered by the Red Cross Volunteer Group so that quick and efficient activities can be carried out.