During & Immediately After an Earthquake
IF YOU ARE IN YOUR HOUSE WHEN THE SHAKING BEGINS...
First, and most important, is to guard your head. Hide yourself under a solid table or the like and hold its legs firmly while keeping your head away from the table edge to keep yourself safe from falling objects.
If you are using electric heaters, gas heaters, or stoves and a fire starts, turn off the gas valve at its source.
In principle, do not to go out right after the quake has finished. Evaluate the surrounding situation and behave in a composed fashion.
The entrance door may not open in multi-storied apartments. Try to make sure that your entrance door does open. Set objects at the door so that it will not close shut on its own again.
Confirm the safety of family members. Call out to your neighbors. In particular, check on those neighbors who need assistance.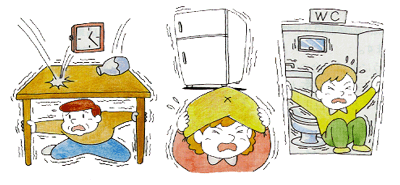 IF YOU ARE OUTSIDE WHEN THE EARTHQUAKE HITS...
If you are walking along a street, roof tiles, signboards, glass, concrete block walls or gates, and automatic vending machines may topple and fall. Never stop where such objects are located. Protect your head with anything at your disposal: such as a purse, briefcase, or shopping bag. Quickly go to a nearby park, plaza, or a firmly constructed building if one exists.
If you are in an elevator with an earthquake sensor, such an elevator will immediately stop at the next floor. Please get out. If you are in an elevator without an earthquake sensor, press the stop buttons of all floors and get off as soon as it stops.
If you are on a train, a subway, or a bus, observe instructions of the conductors and behave in a composed manner. In a subway, it is rather dangerous for you to get off the train on the tracks because of the risk of electrocution.
If in a car, avoid applying the brakes rapidly. Slow down gradually and approach the left side of the road in a safe manner and stop your car there. When leaving, stop the engine and shut the windows but keep the key inserted. Never lock any doors.
FOR THOSE WHO NEED HELP DURING AN EARTHQUAKE
Try to obtain information form the TV and radio, and ask neighbors for help when the need for escape is announced.
If you are far away from your house and cannot go home by yourself, ask the nearest disaster prevention organization for protection.
It is dangerous to move immediately following the quake. Following an earthquake, there will be falling glass and furniture. It is likely that the state of each room will have changed.
If you are visually impaired, it is recommended to shout out "Extinguish the fire!" to family members. If they are out, oncentrate on the possibility of a fire breaking out. If you sense a fire shout to your neighbors for help and ask them to quickly check for signs of a fire.
If you are hearing impaired, ask your neighbors to provide you with information about the state of the earthquake, surrounding conditions, and the necessity of escape by showing a note requesting important information about the occurrence of fire and escape directives. Ask them to respond in kind if possible.
When a fire occurs, it is recommended for those who are speech impaired to make loud noises or display a note stating, "Fire! Dial 119" or "Help me extinguish the fire!" to neighbors asking for their assistance.
If you are speech or hearing impaired, it is recommended to show people a note stating your requests.
If you are an outpatient needing regular medical treatment such as dialysis or insulin injections and are unable to receive this treatment at the medical facility that you usually do, consult the nearest public health center or other medical organizations for help.
IN ORDER TO PROTECT THOSE WHO NEED ASSISTANCE
If you have a person who needs assistance in your neighborhood, call out to them to make sure they are safe.
Cooperate with those who need assistance by checking for fires. If you detect a fire, call out to inform other people in the vicinity and ask them to "dial 119" and try to fight the fire.
If fighting the fire is too difficult, guide those in need of assistance out of the house, paying attention to broken pieces of glass and falling objects. When escaping, keep low so that you are not overcome by smoke.
If assistance is requested, give information on the traffic situation and places where one can take refuge.