Business
`Cruise-port Osaka'
Capable of accommodating large cruise ships
Because there is no height-restricting bridge between the outside of the Port and the Tempozan Wharf, the Port of Osaka is capable of accommodating large-scale ships. As the Tempozan Wharf is located virtually straight ahead from the Daikanmon (port entrance), ships are able to approach in straight line.
The Port of Osaka has served as a port of call for Quantum of the Seas, Norwegian Joy,  Spectrum of the Seas, and other large cruise ships of 160,000-ton class (largest size for Asian cruise).

Smooth turnaround of passengers
As a turnaround hub, the Port of Osaka is convenient owing to its good access to Kansai International Airport and the smooth immingration process based on collaboration with the immigration Bureau and other related authorities.

Tempozan Wharf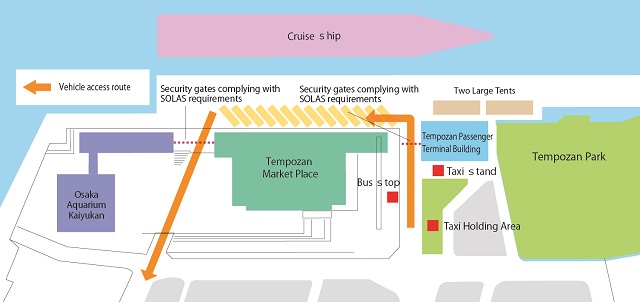 Developing a Home Port for Cruise Ships
| | |
| --- | --- |
| | We're building a new passenger terminal, scheduled for completion in spring 2024, so that we can serve as a home port for cruise ships (by accommodating cruises originating from the Port of Osaka as well as regular cruise ship visits to the Port). This world-class terminal will provide turn-around capability for large cruise ships as well. |
Passenger Gangway (Boarding Bridge)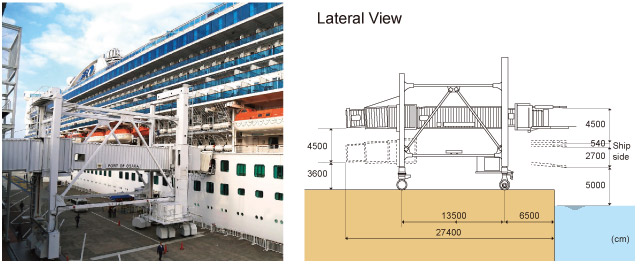 Other Wharves for Cruise Ships

Incentives to Cruise Ship
To further attract cruise ships and raise its status as a cruise port, the Port of Osaka exempts all charges (collected by the City of Osaka) for cruise ships. (This exemption started in June 2014.)

Ensuring security for incoming cruise ships
(SOLAS Convention)
In compliance with the SOLAS Convention, which was revised following the 9/11 terrorist attacks that occurred in the U.S. in 2001, the Port has set up fences and security cameras and tightened security for port and harbor facilities through gate control both for men and for vehicles. This is to prevent harmful threats such as terrorist attacks, and enhance the reliability of international maritime transport system.
Vibrant and Convenient Location
Tempozan Passenger Terminal is located in close proximity to commercial facilities including Osaka Aquarium Kaiyukan ー a well-known tourist spot, Tempozan Ferris Wheel, and Tempozan Market Place. Visitors can start enjoying a tour the moment they get off a cruise ship. Universal Studios Japan® is located on the opposite shore, and is accessible by shuttle boat in 10 minutes. A walk from the wharf to Osakako Station (a subway station) takes only 5 minutes on foot. It takes a minimum of 20 minutes to reach the downtown area of Osaka from the station.
Fly & Cruise
Tempozan Passenger Terminal is accessible from Kansai International Airport in about 30 minutes by car (about 60 minutes by limousine bus). The airport is linked with countries and regions around the world by direct flights. Thus, Tempozan is conveniently located for fly & cruise packages.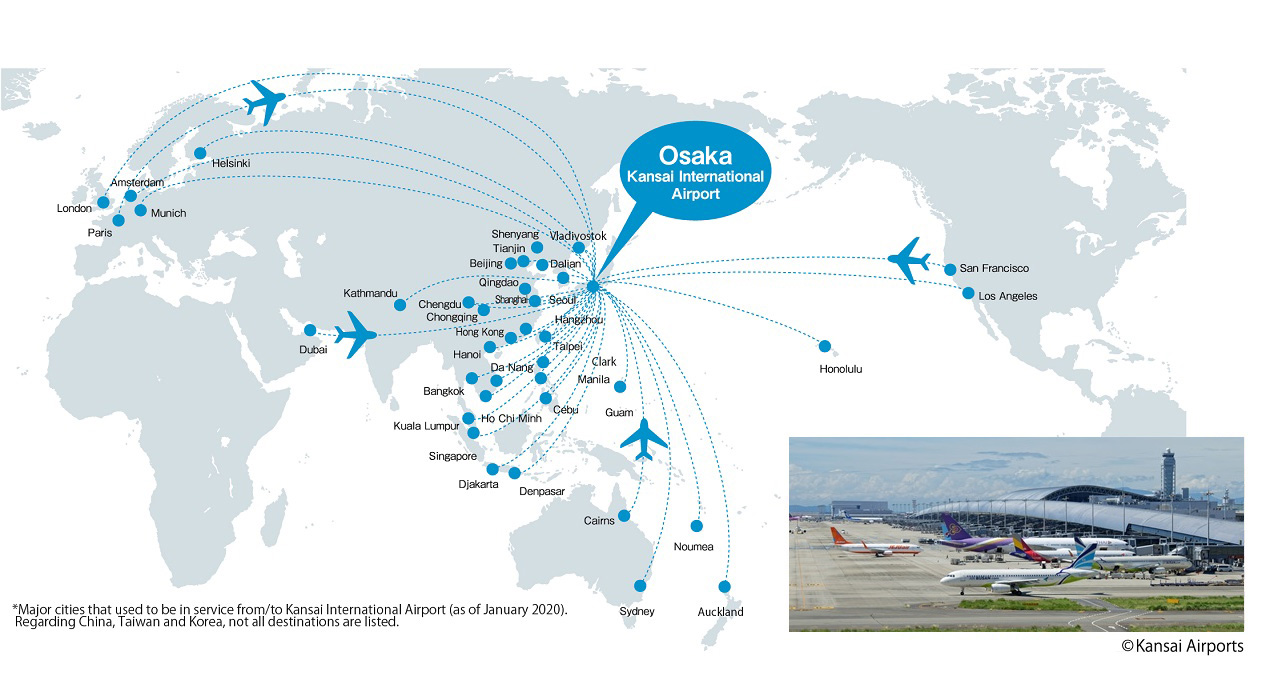 Gateway to major tourist spots in Kansai
Thanks to its close proximity to an expressway entrance (only 5 minutes from Tempozan), the Port of Osaka offers good vehicle access not only to Osaka's city center but also many parts of Kansai.
Kyoto and Nara, very popular tourist destinations, can be reached within only about 1 hour.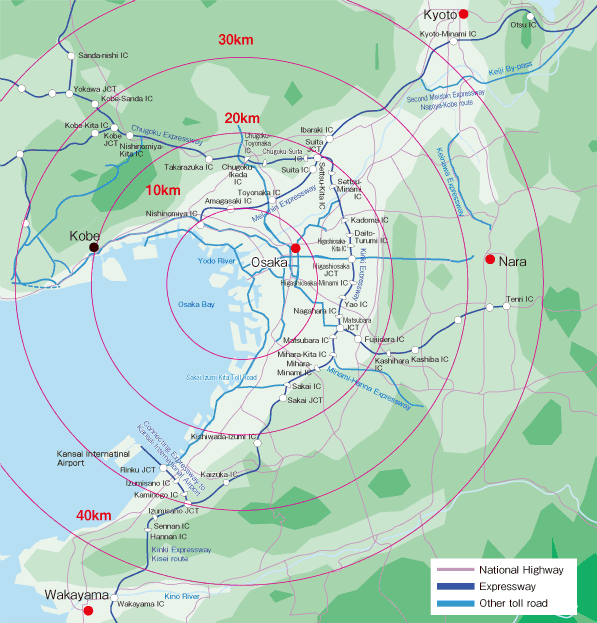 Approximate time required from Tempozan Passenger Terminal to major transport hubs and sightseeing spots in Osaka and other neighboring areas
For Osaka's tourist information, please refer to Osaka Tourist Guide at http://www.osaka-info.jp/en/